Merely an indicative
, rather than exhaustive list, based on my "top ten" beers whilst in New Zealand. There are obviously plenty of beers I didn't get to try but these ones make an excellent starting point. So, in reverse order:
10.
Wigram Spruce Beer
may not be for everyone, but if you like the use of interesting spice additions then you should try it. Pale ale in style this has added manuka and spruce bringing herbal though not medicinal qualities to thebeer. Think Williams Bros
Nollaig
and you're not far off. Spicy nutmeg and honey notes combine with spicy dry malts like a bastardised Christmas cake. White pepper, creme caramel and increasing spruce (not spruceness) arrive as it warms up. Not something for everyday drinking sure, but worth a try.
9.
8-wired hop wired
is all that you want from an NZ IPA Pithy lime and passion fruit nose, sweet malt to balance it without any 'orrible caramalt notes, light carbonation so you don't end up with a mouth full of gas then lots of Nelson Sauvin grape, motueka lime and a pithy finish.
8.
Epic Mayhem
is a sticky pithy IPA in the American style - hazy with a resinous pithy nose,clean hop profile and bite with balancing malt and a long resinous finish. Epic to me seem to be the Kernel of the southern hemisphere with plenty of hop-forward ales, though unlike the KErnel they focus on a core range which is fairly widely available.
7.
Croucher
Galaxy IPA is the best use of that hop I've come across. Strong peaches, mango and passion fruit like the old 1 penny fruit salad jacks Smooth bodied with fruity passion fruit and a touch of chalky mature cheddar rind just in the long finish with pineapple notes.
6.
Yeastie boys Digital IPA
brings yeast to the fore as an integral flavour component which adds some cheesecake notes to this IPA. The
recipe is also open source
which is pretty cool. Melon and custard creams in nose becoming pineapple cheesecake on warming. Think that's the yeastie boys yeast coming through as I got similar flavours in their pot kettle black too.Plenty of Motueka flavour and perhaps a touch of NS grapeiness.
5. Yeastie Boys Golden Perch is a seasonal brewed for the
premiere of The Hobbit
Light in body with medium carbonation, passion fruit, orange pith and a slight bitterness in finish with balancing shortcake malt. One of the best session beers I tried in NZ. For those of you headed that way its due out in bottles soon; so keep an eye out!
4. Croucher Patriot is a proper BIPA strong orangey simcoe with chocolate (think jaffacakes), grapefruit and cocoa on the nose. Medium carbonation, with initial malt sweetness seugueing into pithy citrus and some lemon cheesecake notes. Touch of coffee and dark malt round it off nicely.
3.
Epic Epicurean
is perhaps a tad pricy for a casual drink down the pub, but for a special occasion its perfect. Kelly had been taunting his twitter followers with pictures of the ingredients arriving and I was determined to try it whilst here.I got my wish when we shared a bottle on New Years Eve at Brew on Quay in Auckland. ich smoky coffee and sweet thick honey on the nose. Smooth, thick body with rich coffee, sweet chocolate and a long dry finish.
2.
8 wired iStout
I actually tried in the UK before travelling to New Zealand but its a fantastic imperial stout that deserves to be on this list. Sweet coffee and dark chosolate on the nose. Unctuous and thick mouthfeel, with a good roast barley finish.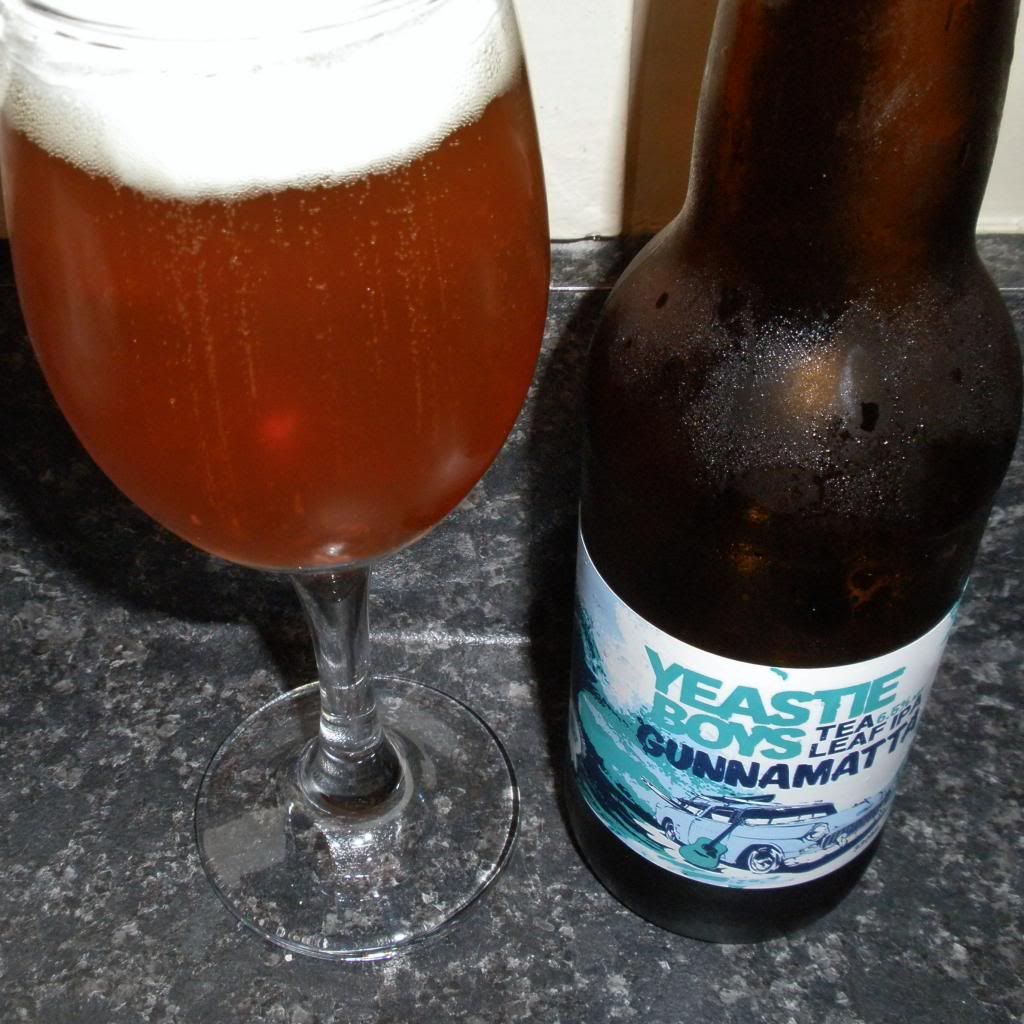 1.Yeastie Boys
Gunnamatta
is a fantastic fusion of tea and hop. Its infused with bergamot which really comes into its own when blended with NZ tropical fruitbowl hops. Strong passion fruit and tannic tea flavours, its probably a beer that will divide opinion as does the eponymous tea, but it was by some margin the best beer I tried whilst in New Zealand.
Best cider
was
Good George
's new effort, made even better in the "hop-drop" form; that's right dry-hopped cider! No idea if its an original idea but its new to me and tastes great. Using high quality concentrate (apples canbe hard to get hold of) then dry-hopped in the conditioning tank its like a flavoured cider without the artificial taste that coats your tongue in the usual suspects. The nose is strong grapefruit and kiwi notes. Rich hoppy fruit flavours with no bitterness in sight but a tang of apple tartness lingering in behind.
Honourable mentions
were Mata's festive seasonal tried at the Croucher flagship bar in Rotorua with free piece of carrot and orange cake. The beer tasted exactly as the cake did! Lots of cinnamon on the nose with cola, orange peel, carrot cake and a sweet nutmeg finish. Definitely a dessert beer but it does what it says on the tin fairly well.
Croucher's NZ Pilsener was one of the best pilseners I've had in a long time, brewed with all NZ ingredients but keeping true to the Czech recipe by sticking to Saaz hops, albeit those much transformed indigenous cultivars Motueka ("
B Saaz
") and
Riawka
. Crisp nelson sauvin grape aroma (there may be some dry-hopping), very fruity with lots of grapefruit, lemon and herbal hop with a bitter finish but still with that crisp malt and cleanessthat all the best pilsners have.