This weekend my friend and fellow drinking blogger
Reuben
(
@TaleofAle
) headed up for a spot of evening imbibing. After an enjoyable meal and a catch up with brewing developments at the Brewers House we proceeded to drink our way through some of my amassed stock, beginning with a selection of seven stunners from the fairly new
Loch Ness Brewery
. Based in
the Highlands and Western Isles CAMRA Pub of the Year 2012, I'd certainly like to visit after having tried these.
Reviews after the pic.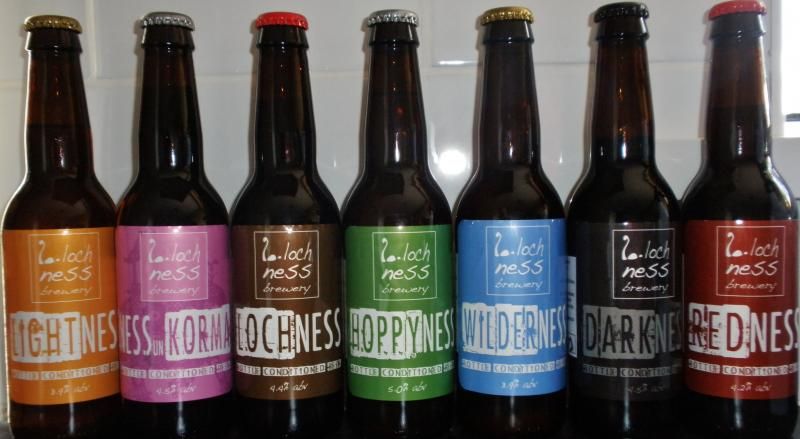 First comment has to be that the branding is simple and eye catching, i love the one beer, one colour approach that fellow Scots
Black Isle also employ
to great effect. The 330ml format is great for getting through a number of different beers in the night, but as will become apparent, some of these beers would come into the own in the larger 500ml format.
Up first; LightNess (3.9%) Pours pale blonde with a fluffy open textured white head and strong pine and grapefruit zest on the nose. Fairly high carbonation, light bodied, touch of sweet biscuit malt up front, followed by grapefruit pith for a pleasing long bitter finish. Slight cattiness appears on aroma with warming.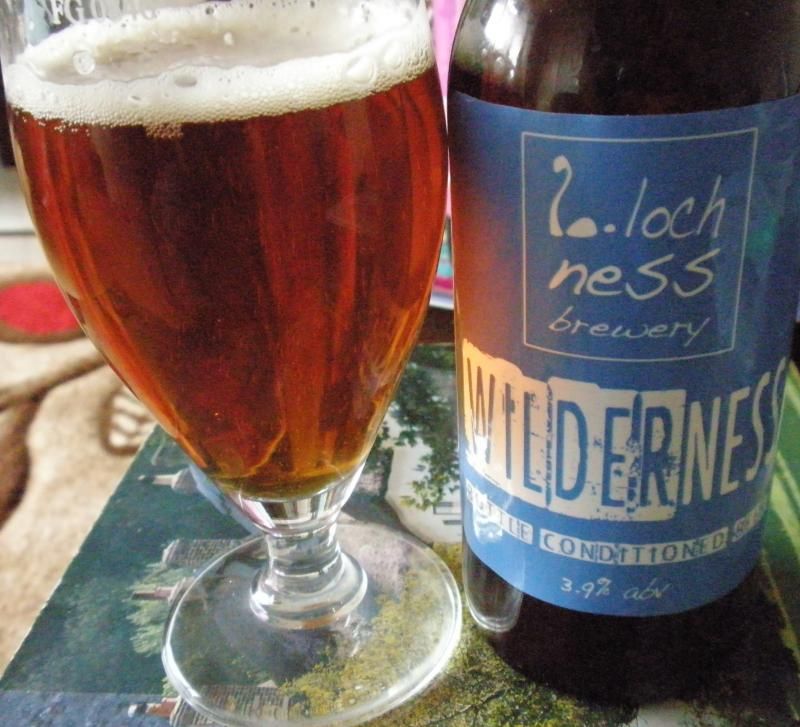 WilderNess (also 3.9%) pours dark blonde with a slight, off-white head. Sweet bruised peaches, mango, tangerine on the nose.Prickly carbonation with sweet, juicy fruit, some orange pith, caramel and a dry bitterness that numbs the tip of the tongue leading to a sticky pithy finish.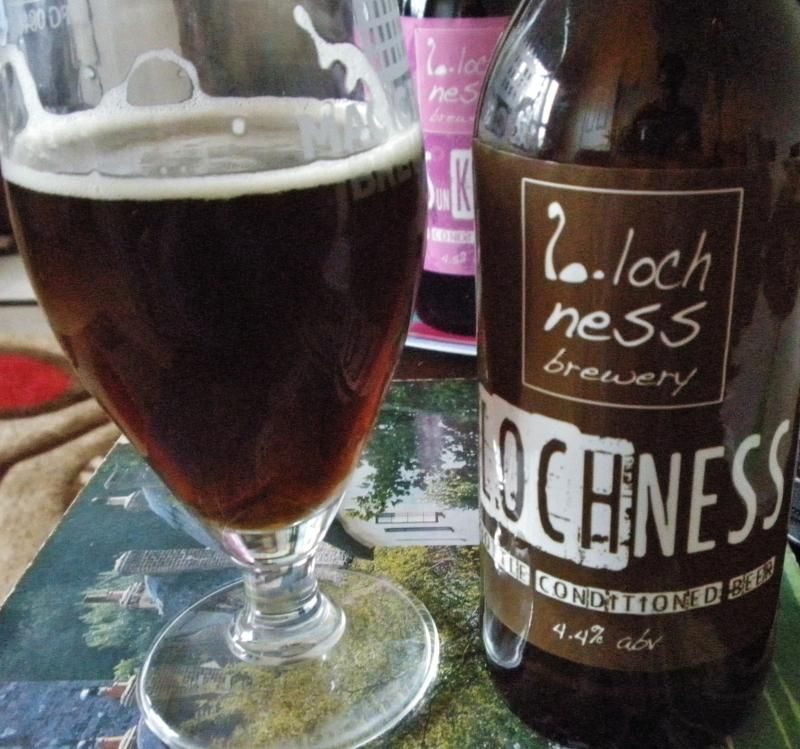 LochNess (4.4%) is the eponymous 80/- style Scottish ale, pouring light chestnut with a toasted marshmallow head. Sultana and caramel dominate on the nose. Its pretty sweet but balanced by burnt toast malt and a touch of ashen coffee. A developing redcurrant and milk chocolate flavour lead to a long fruity finish. Certainly one of the better 80/- I've tried thus far.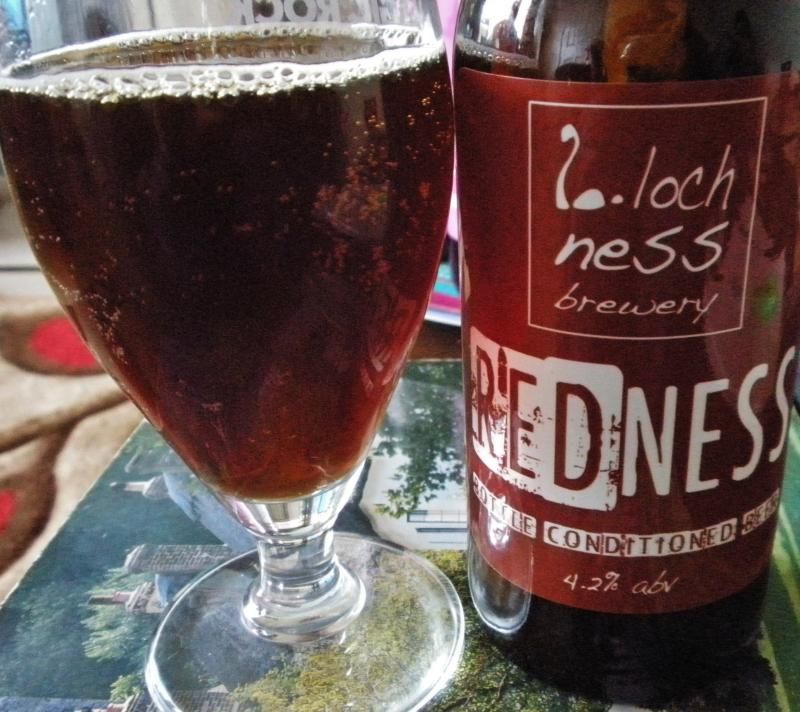 RedNess (4.2%) is hazy dark ruby-brown. Sultana, milk chocolate pudding on the nose; slight rum truffle notes. Light carbonation,medium body, sweet toffee little in the way of hopiness.Like a ruby mild, another grower.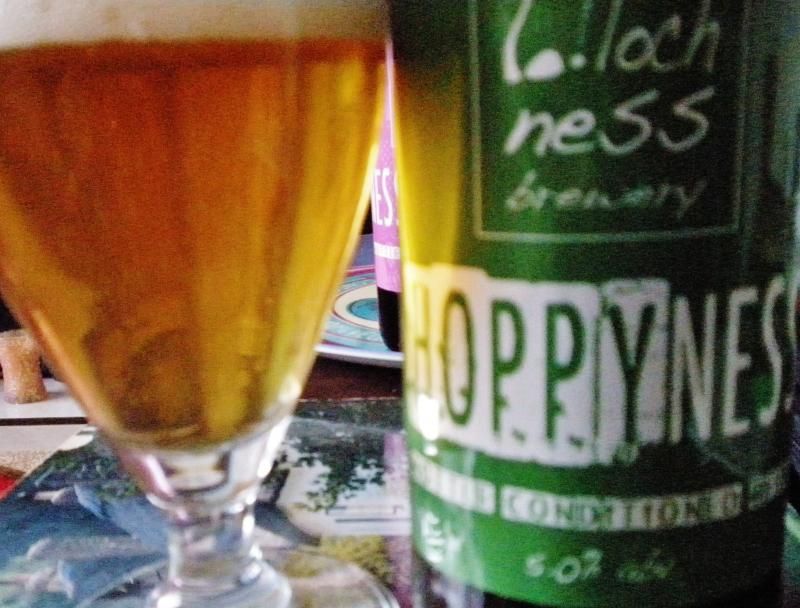 HoppyNess (5%) has pungent mango pith, orange rind and cats piss on the nose. It pours hazy pale blonde with fluffy white head. Mango pith, sweet tangerines and long orange-flecked shortbread finish. A touch over-pithy but very easy drinking American Pale Ale.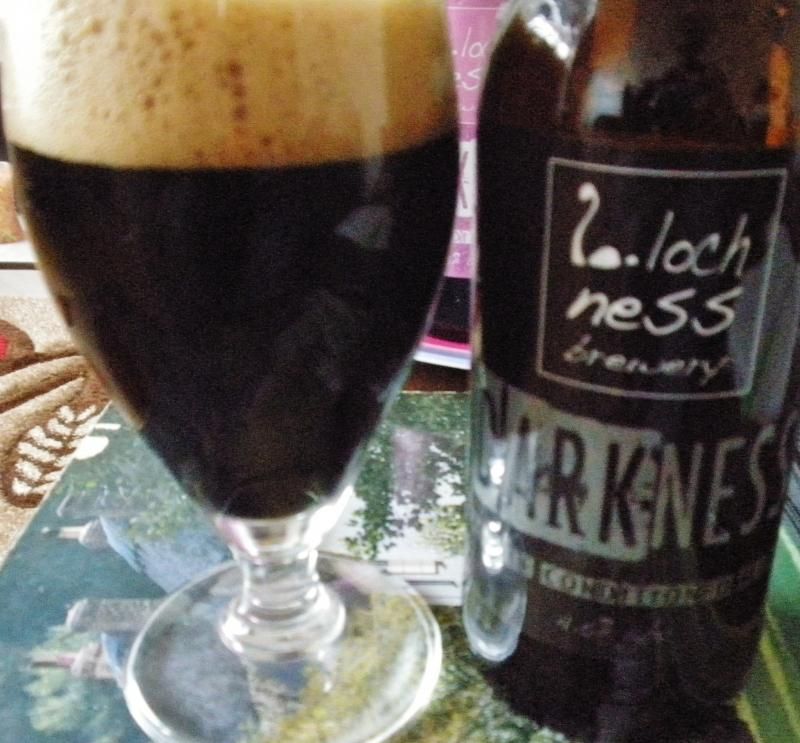 DarkNess (4.5%) is Stephen's take on a dry stout, though as with all of the brews, this one is a little different. Dark ruby brown with fluffy tan head, raspberries and pipe smoke on the nose. Full bodied, medium carbonation smoky brew with dry roast barley and a touch of chalk. Sweet & fruity malt middle and an earthy long dry barley finish.
The experimentation reaches a zany conclusion with the addition of curryspices and leaves to Darkness (or something very similar) to give Ness Un Korma(4.5%). Very hazy dark ruby brown with tan head. A sweet chocolate spicy cardamom nose with some marmite. Very lively on the pour with medium carbonation, citrussy cascade notes and curryheat on the tongue and at theback of the throat. Very warming. Chocolate and redcurrant in the finish. Its pretty well balanced and enjoyable.
So thanks to the brewers for making these beers, not a duffer among them and also to AleselA for getting my order to me so quickly and very well wrapped.
Check out their range of beers here.
Hopefully I'll get a chance to try some of their other brews when I'm Edinburgh in July for EBBC.
Loch Ness Brewery
@lochnessbrewery
Facebook