I've been a bit la

x

with posting recently and this blog is perhaps a month past when it should have been posted, better late than never they say! A lot going on beer wise in NI at the mo, hopefully do a few posts in coming weeks to catch up a bit, not least on new breweries and bee

r venues in our capital.
Perhaps helped by the appearance of some craft-styled breweries in the North and the resurgence of good beer on the island of Ireland as a whole Belfast will host a new beer festival this Spring bank holiday (May 22nd-23rd). Set 6months apart and serving mostly from keg and bottle this will be a completely different affair to the November CAMRA cask festival held in the Ulster hall.
The listed and atmospheric Titanic Drawing Offices
ABVFest
(for that is its name) has been organised by four disparate beer enthusiasts who have come together to bring decent beer to our shores.
Darren met Felicia at a beer tasting event at the National last year and she began to distribute his (
Pokertree
) beers through her business (
Prohibition NI
). Whilst they both love the Ulster Hall festival it doesn't reflect where good beer is in Ireland right now and wanted to run an event focussing on quality of beer, regardless of format where a group of enthusiasts could come together and enjoy beers in a more relaxed environment. When Boundary's
Matt
and
Michael
came along it turned out they were planning a festival on similar lines; so four people came together with the idea of putting on something a bit different in Belfast, modelled on the likes of Indy Man beer con. This is not least reflected in the choice of venue, wrangled somehow by Matt and Michael is the use of the formerly bustling now decrepit Titanic Drawing Offices. The festival will be the final event there before it becomes a boutique hotel. Of course this does mean if the event is successful they'll need a new venue next year, which is all part of the ethos says Darren!
All four are from different backgrounds and each contributed their own take on what they want from a festival, it really will be a reflection on four people's tastes. Michael's creative eye (he's a photographer by trade) has helped design the style of the festival and as the only non-beer-trade organiser he acts as a proxy for all 1200 attendees to ensure the festival caters for the geeks as well as the brewers!
A Boundary and Galway Collab Brewday
Photo courtesy of Tom Delaney
Each session will be fairly small with 400 people, allowing for conviviality rather than hubbub sometimes seen
the attendees
reading like a who's who of the best our islands (and the worldwide brewing community) have to offer. Felicia's extensive list of contacts and good will built among brewers in the few short years Prohibition has been operating has resulted in an astonishing array of beers, the like of which have never before been seen on our shores including a number of festival specials and one-offs (currently held tightly underwraps) plus the official launch of newest Belfast brewery Boundary with their AGM being held on Saturday morning. It will also serve as a showcase for Northern Ireland brewers; all were invited and most were excited to attend, though Darren was at pains to stress that this is not "The Good Food show NI for beer" its a celebration of beer first and foremost, with of course a chance for enthusiasts to put the faces to the brewsters and brewers whose wares they so enjoy. Felicia said "we wanted to create an experience and not just a drinking session, a festival that could allow people to taste some of the best beers that are available." In that respect ABV will be completely different to anything seen in Northern Ireland to date
And there will be a number of those purveyors of beers present at the event, behind the bar chatting all things beer, ably assisted by a posse of volunteers (including yours truly; who has volunteered to manage a bar for all three sessions). Most of these beers will be served on keg, 40 at one time across two bars, supplemented by a fistful of bottles. A lot will be a single keg only, meaning you'll have to make do with what's on during your session, but working out what's on is all part of the fun! There will also be some ciders for those of the fermented apple beverage persuasion and of course with decent drink must come decent food and a number of proper street food trucks will be in attendance.
Michael said "We've planned a festival that we know we'd love ourselves and I can't wait to enjoy it." He's particularly looking forward to a few "dark beasts" with more details to be released in the coming weeks
@ABVFest
.Felicia is also looking forward to seeing others getting pleasure from the beers, finding out "how fun and interesting beer can be, trying beers they have maybe never tried before and having a bit of craic." This sharing aspect will be cultured by some special tastings on the day.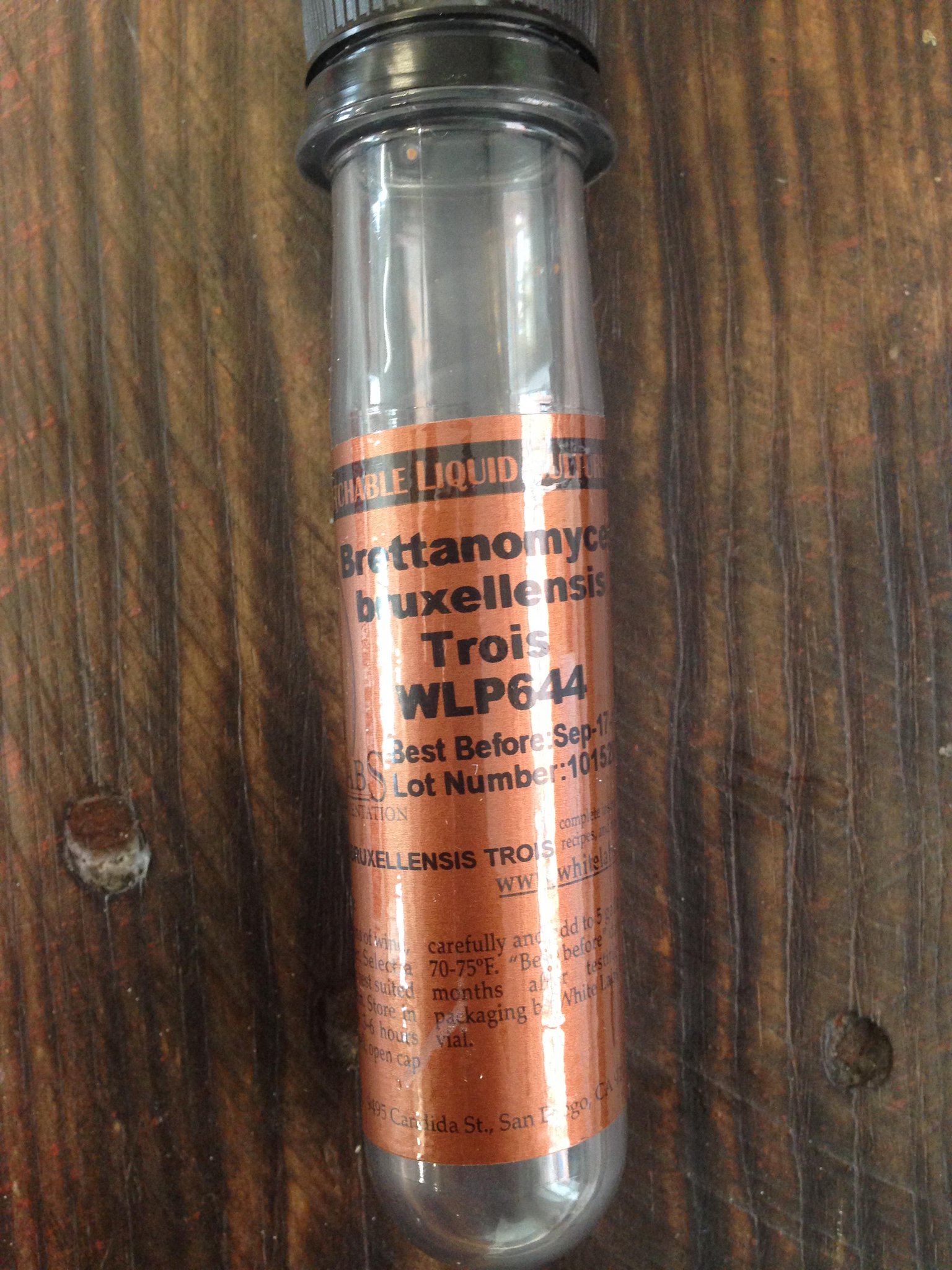 Could this vial hold a clue?
I'm most looking forward to trying the Boundary Beers on draught (including some of those aforementioned collaborations)* and meeting a lot of those people who help keep our beer community lubricated plus of course catching up with old friends from around the UK. And for the team behind the festival its all a bit overwhelming but of course very exciting, "it's amazing how many hundreds of people have been so quick to buy tickets and support our efforts to do something different". The Friday, Saturday evening and weekend passes had already sold out one month before hand; so
you'll need to act fast to get one of the last tickets for a Saturday lunchtime session (12-5)
and the final Saturday day session tickets sold out shortly afterwards.
There is a waiting list, so try your luck on the website
, hope to see you there!
*I'll hopefully bring you an update of these as soon as I hear about them!