Its December again; so that means its time for Bristol Beer Factory's 12 Stouts of Christmas. I
really enjoyed last year's efforts
; so had to pick them up again. There's 8 new ones this year, including a recipe change on the year-rounder Bristol Stout. I've reviewed the newbies below: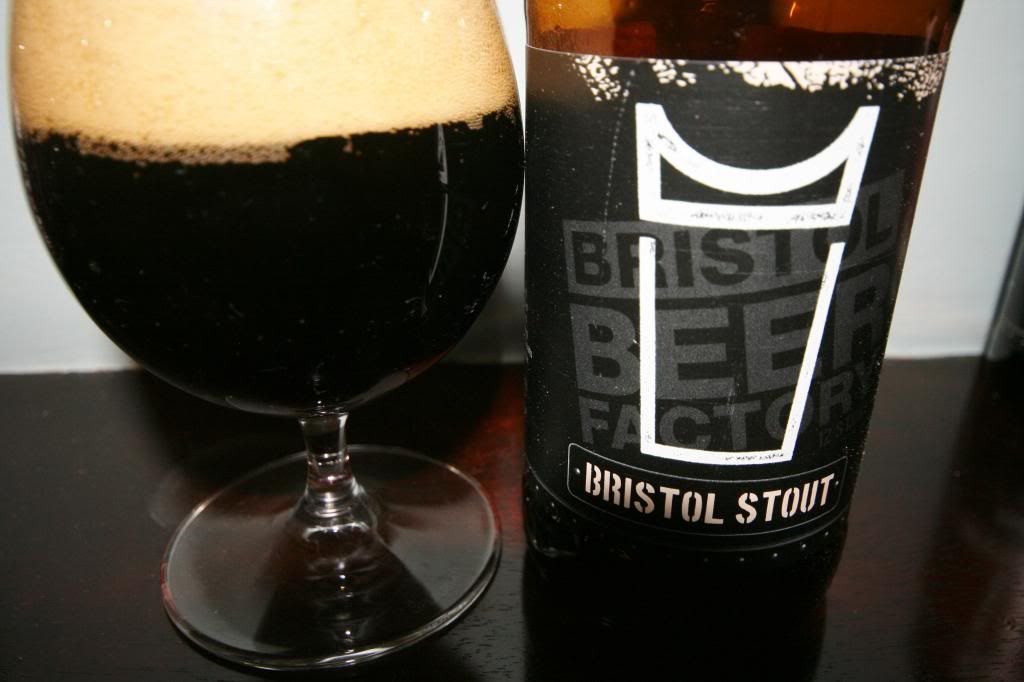 Bristol Stout has been revamped this year and gained 1% ABV in the process. Dark brown with fine bubbles and light tan head. Fruity dark beer with smooth body and lightly smoky blackcurrant. Slight roast barley and coffee in finish. More caramel notes as it warms. Quaffable enough but much better in the modified forms.
Port Stout is a variant of Bristol Stout with an ABV of 5.5% Dark black with fluffy white tan head. Minimal nose on opening, touch of toffee perhaps. Medium carbonation, some warming sugars and higher alcohols. Touch of astringent plum skin and bitter coffee grounds in finish.
Another variation on the Bristol Stout is smoked chili chipotle Dark brown with pink tinged brown head with red flecks, could that be remaining chili? Rich chocolate enrobed black cherry, smoke, sweet tomato. Initial tongue tingling gives way to milk chocolate followed by a fruity chili hit which warms the tongue and throat on the swallow and a dry ashen roast barley finish with a fiery tingle. This could cope with a higher ABV and would be a great food beer.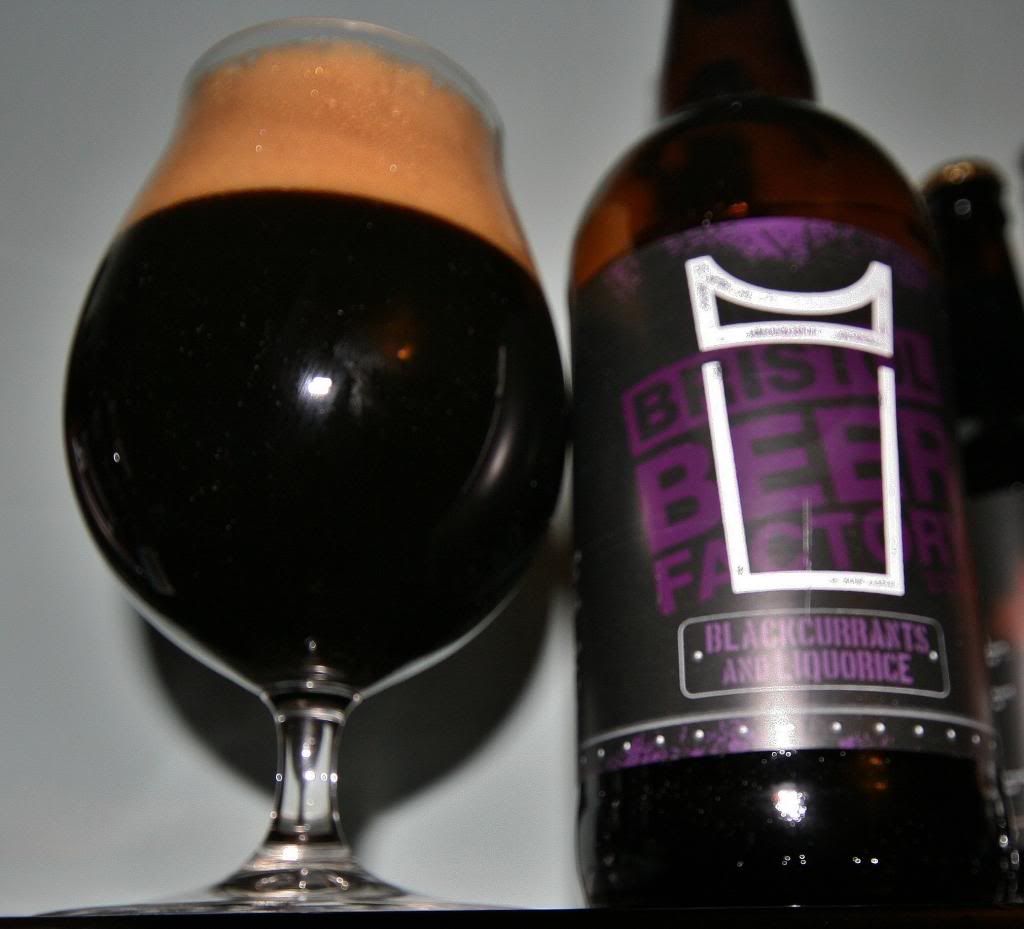 Blackcurrants and Licorice is also a Bristol Stout variation. Grey-brown with fluffy pale tan and subtle earthy spicy blackcurrants and dusty yeast. Medium carbonation, tart blackcurrant, a touch of spearmint perhaps. A spike of anise like licorice before the dry roast barley kicks in for the long finish. It's subtle but flavourful.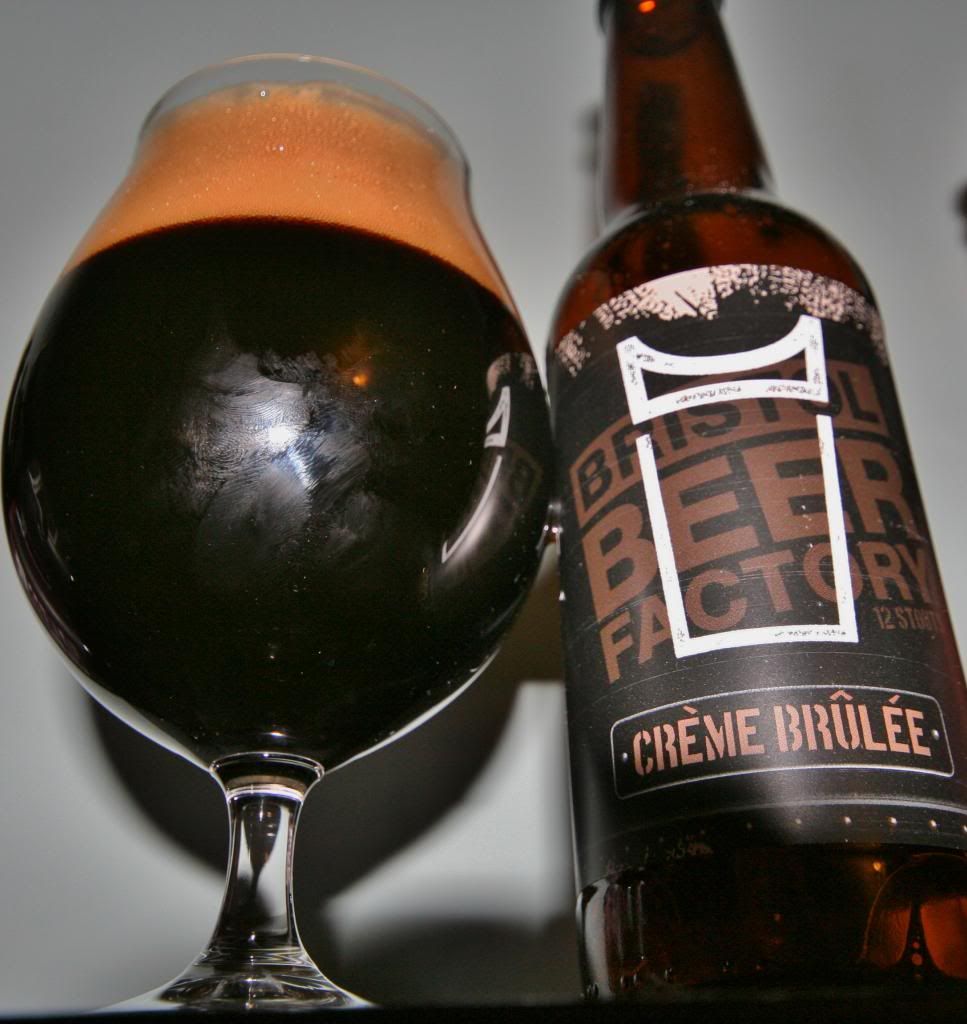 Creme Brulee is an Imperial version of milk stout brewed
in collaboration with Melissa Cole
(she gets around a bit!) aged in rum casks for two months. Spicy rummy (think rum & rasin) nose on this ruby tinged dark mahogany beer. Lively crema head which soon collapses. Smooth body, gentle carbonation, sweet notes, big burny boozy up front becoming a burnt toast, molasses and tart red fruit melee. Long milky custard finish.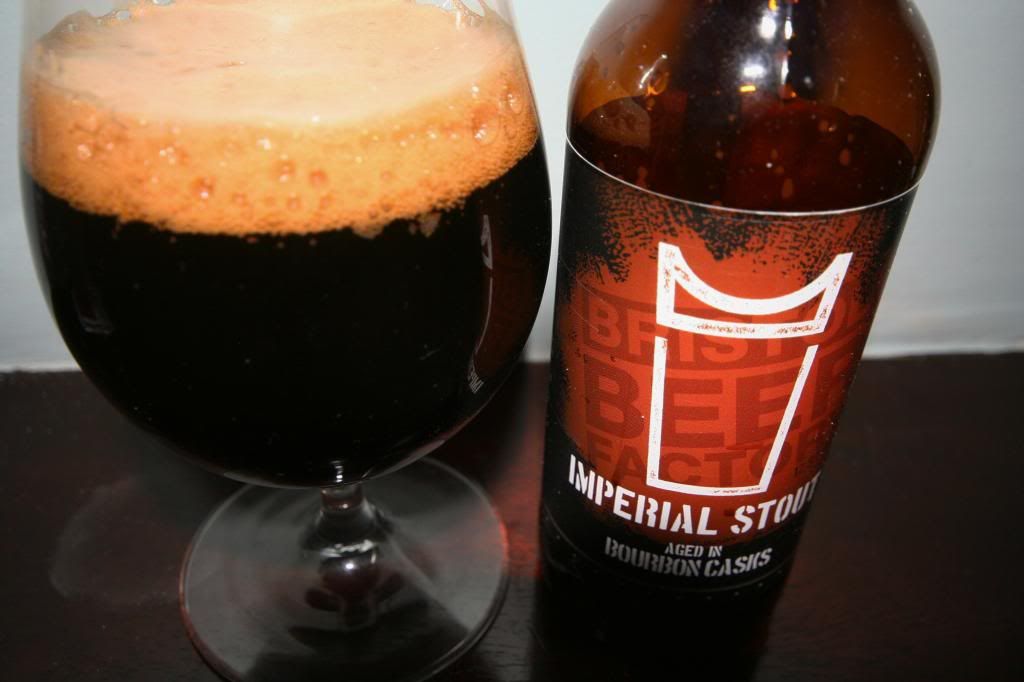 The bourbon cask Imperial Stout (10.5%) is dark tar brown with fluffy tan head that soon collapses. Rich vanilla and coconut nose with an underlying hint of marmite. Gentle carbonation with cola first then tonnes of woody vanilla with some meaty yeast and soft cream cheese notes. Long sticky warming finish.That alcohol is pretty well hidden.
And finally Speyside whisky @10.5% has some peatsmoke and iodine plus plenty of whisky booze. Dark brown with cola head that soon disappears to nothing. That peaty malt is unexpected for a speyside whisky, perhaps an Ardmore. Fair amount if residual malt sweetness and long dry earthy finish.
Pick of the bunch for me though was the mocha. At only 4.5% (base beer milk stout) its gloriously drinkable and one of the best coffee beers I've had the pleasure of drinking and
I've had a lot
. Dark brown with fluffy tan head. The coffee is the star here singing out from the aroma as roast beans, red berries and rich barley notes. First flavours out are the sweet lactose milk notes followed by dark chocolate and a long roast coffee finish. With caramel, red berry and vanilla finish. A fantastic improvement on last year's latte.
So are they worth buying? In my opinion they are, I'd happily drink a case of the mocha alone. There may still be some available but I expect you'll struggle to get them delivered in time for christmas.
Get them here!
Follow Bristol Beer Factory on Twitter
@BrisBeerFactory
and Head Brewer Chris Kay
@BeerFactoryCK9
.