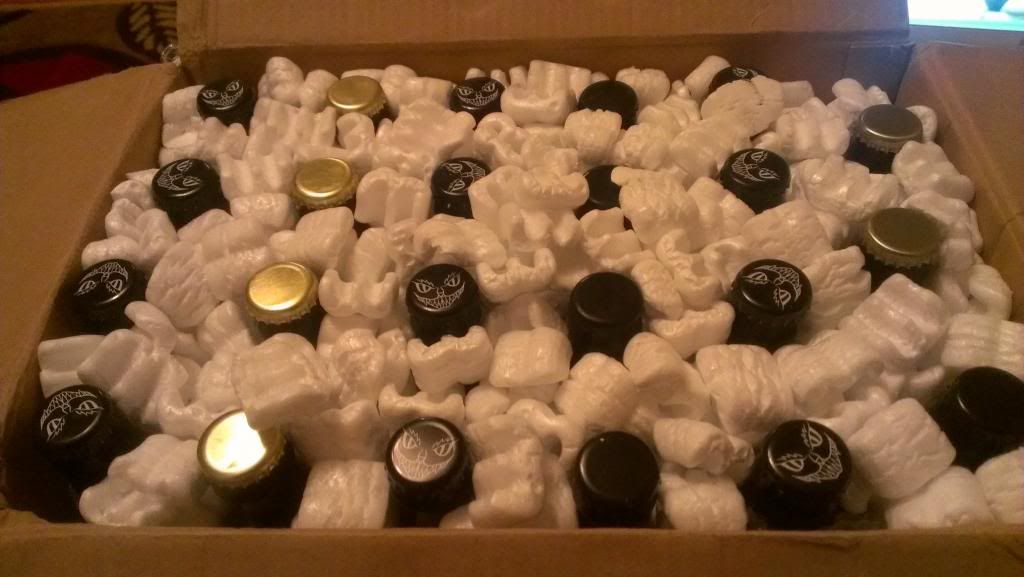 Its very unusual that I get a message out of nowhere offering me beer for free. Its even less frequent (read: this is the first time) that the brewer hasn't specifically asked for publicity/ a review in return rather just my opinion shared with him in whatever manner I saw fit. I actually really enjoyed the beers (not a function of them being free); so have decided to let readers of this blog know about them so that they can get hold of them for themselves.
Revelation Cat
started off as a gypsy brewer along the lines of Mikkeller, though primarily based in Italy. Brewer Alex is also the driving force behind Rome's
Brasserie 4:20
one of the premier beer venues in that country. Recently they have been brewing batches of beer in Kent with Eddy Gadd, which has proved successful enough for Alex to invest in brew kit of his own next door. He's sharing the mash tun and kettle but everything post boil including fermentation is done on Revelation Cat's premises. In effect that means we have another new brewer in the UK!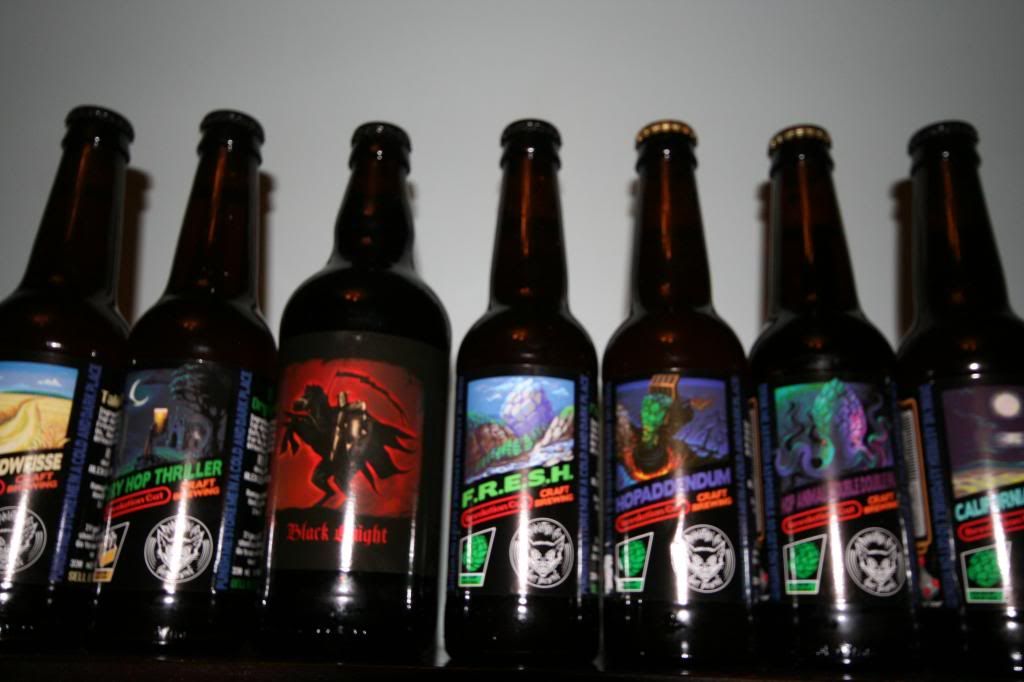 I had a pleasant surprise when the beer arrived, not only were there 7 different beers to try I had received multiple bottles of each! I made my usual review notes on rate beer and from the scores that emerged decided that it was well worth telling you about the beers.
Take My AdWeisse is a US-hopped wheat ale with a gentle satsuma pith nose and part of the "session series". At 4.5% its at the higher end of the scale, but I could certainly happily sink a few pints of this. It becomes more resinous as it warms but retains the thick creamy mouth-feel and wheat spiciness throughout. I found myself craving some weisses banana and clove esters though and would perhaps still opt for a traditional weisse or hoppy pale ale over this. I can certainly see a lot of space in the market for this though.
I wasn't quite so taken with the dry hop Thriller. A hazy pale amber ale with apricot and lemon on the nose. The carbonation and mouthfeel are about right to make this sessionable, but the balance is skewed too much towards the hops leaving a bit too much pithy bitterness and a chalky finish to be truly enjoyable.
Green-hopped F.R.E.S.H is all about the aroma which is at once soporific and enlivening. Rich resinous hops with underlying ginger, toffee and bergamot. In the mouth its pretty sweet, sticky marmalade and carrot juice but its a pleasing beer, all the more so because its made using indigenous UK and European varieties. Proof that the flavour is already there if the hops are used in the right quantities.
HopAddendum is a proper pale West-Coast IPA in the vein of Stone and Brewdog. Certainly no caramalt here! Complex and intriguing nose of red apple, kiwi and strawberries. The apples arrive first to the tongue, followed by satsuma, resin, pith, bitter hops, long fruity finish. Despite its 6% ABV I'd certainly be happy to stick with this one beer all night and certainly prefer it to Punk IPA (previously a firm favourite).
Following right in behind is California Moonset, a double IPA at 7% ABV. This one pours hazy dark amber with fluffy white head. Pithy citrus with smoother grape flavours beneath. Centennial and Nelson Sauvin perhaps? The bitterness is up front followed by jammy blackcurrant and tangerine. Long dry moreish finish. No tacky crystal here either, another sessionable big hitter. Zak would probably describe it as ruinously drinkable.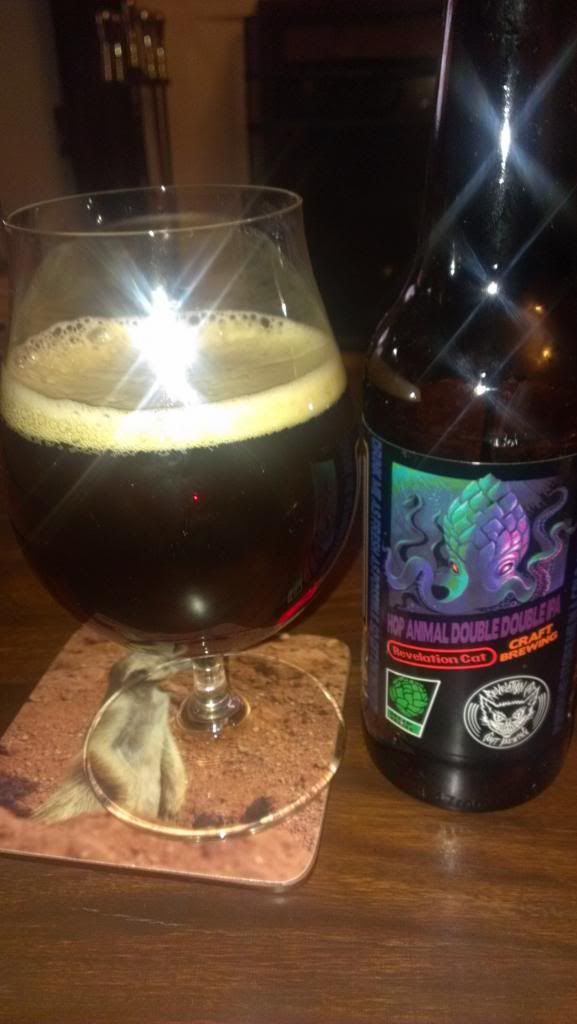 The penultimate beer is into silly territory at 13%. I don't know where all that alcohol was hiding though tasting closer to 9%. Hop Animal is a "double double IPA" (think Brewdog Anarchist/ Alchemist for comparison). It reminds me of an US-style barley wine like Sierra Nevada Bigfoot. The malt is fairly robust but the heavy hitting hops are lurking in behind ready to assault your palate. Dark ruby with white lacing with fruity malt loaf and brandy nose with supporting Seville marmalade. Concentrated citrus fruit, tongue tingling mouth watering pithiness with robust toffee underscore. Long citrus refrain. Masterful.
And now for something completely different. Black Knight is very sparse in details from the label, but I can tell from the 14% ABV its going to be a monster. Turns out its an imperial stout, and not barrel aged which means all of that alcohol got there by fermentation. Its pretty heavy going and warming, 500ml is perhaps too big a bottle but I had people to share it with. Dark chocolate, booze soaked raisins, tobacco and molasses on the nose. Pours viscous black with sizeable cola head that becomes a lacing. Starts off sweet and finishes very dry with some woody tannins, coal smoke, a touch of caramel. A complex and evolving beast.It could perhaps afford to be a few percentage points lower in the alcohol stakes, and this would put it on an equal footing with such UK masters as Magic Rock Bearded Lady and Kernel Imperial Brown Stout.
From this showcase I'm certainly excited to find out what else Alex has up his sleeves (UK Brasserie 4:20 anyone?!) and certainly hope to come across some of these in the pub. According to Alex they've had to expand capacity already; so they should certainly be appearing in UK outlets any time now!