Bristol Beer Factory have plenty of successful forays into barrel ageing under their belts with the 12 stouts of Christmas releases, but these two beers are the first of the core (pale and hoppy) beers to receive the wood treatment. I picked these two up at the excellent
Barley Mow
in Bristol last month.
West Coast Red was aged in Glenlivet barrels. Medium carbonation, plenty of fruity kiwi, touch of cardboard, tannins, spot of phenol but not much whisky...I'm guessing a lot of fresh blended in for balance, warming booze in finish. Dry, woody notes and some marzipan vanillin appear long after hops have faded. It doesn't have the same urgency as the original but enjoyable all the same.
Was at my dad's new flat
- no beer glasses
Southville Hop was allowed to get familiar with a white wine barrel.
Pours hazy dark amber with lacing of off white head. Vibrant mango and kiwi hops on the nose. Fairly high carbonation, pithy citrus, very dry finish, slight grape must. Bitter but fruity slightly oxidized. The edges on the usually zingy Southville Hop have been dulled, butthere is an extra layer of complexity underneath makingthisbeer for contemplation rather than quaffing. A partial success.



As
blogged a month or so ago
, Harviestoun are expanding their fantastic Ola Dubh range to dated releases and Ewan was kind enough to send me a bottle (plus a selection of other beers) to try. It looks very attractive in the bottle and would make a good present for the beer lover in your life. Its not just on the outside that it excels however, with the beer inside shining too. In fact its my favourite of the Ola Dubh's to date, and I've tried a few.
It pours dark brown-black and (unlike some barrel aged beers) is able to retain a handsome thick tan head. Fairly sweet nose of caramel, sherry, lactose, camp coffee, and on swirling some meaty umami and iodine thatcan onlyhave come from the whisky.
Thick, mouth filling with gentle carbonation and sweet red berries up front followed by a cornucopia of flavour. Dry toasty malt, astringent wood, meaty booze sweet vanilla, coconut appears on nose, dark cocoa, latte, both sweet and savoury, iodine whisky, dry woody notes, rich caramel. The booze very well hidden but creeps up on you with a knock-out blow. Long rich dry finish.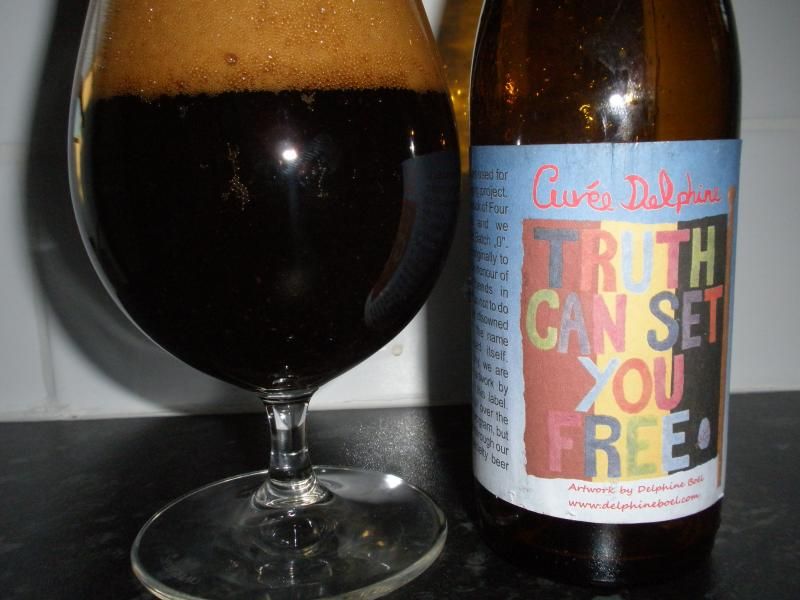 Cuvee Delphine is a member of Struise breweries black Albert range. Aged in Four Roses Bourbon barrels it comes in ata hefty 13% Alcohol by Volume! I picked this one up at
Bottleshop
, Canterbury (mail order).
Pours dark brown with fluffy dark coffee tan head that starts off at a few inches then collapses to a more manageable few mm (yes mixed measurement systems...deal with it)
Slightly sour, tart red fruits, milk chocolate and coffee. extremely full bodied, sultanas, maltloaf, rich coffee, slight sourness, astringent coffee roast barley, gentle caress of whisky with more coffee building in the finish. Finishing quite dry with some balsamic fruit notes. Lovely and hides its strength magnificently.

Four very different beers, again highlighting that when done well and to enhance the beer rather than hide defects, barrel ageing can produce some fantastic results.