Its that time of year again, autumn is upon us which can only mean one thing...
Wetherspoon
are back with another selection of cask ales for their real ale festival. This time around we have an extra special treat, all ten of the collaboration (
collabeeration
!) beers (that's 20% fact fans!) were brewed by American brewers with UK breweries. Brewers from 7 states took part producing beers in 8 different styles. Plenty for the tickers amongst you! Remember they're all one offs too; so make sure you get along to try them out. Here's a preview of those beers and others that I'm most looking forward to.
Shaun O'Sullivan from
21st amendment
in San Francisco California travelled to Wychwood to brew
American Bitter Red
a sessionable Amber Ale with "agressive" hopping.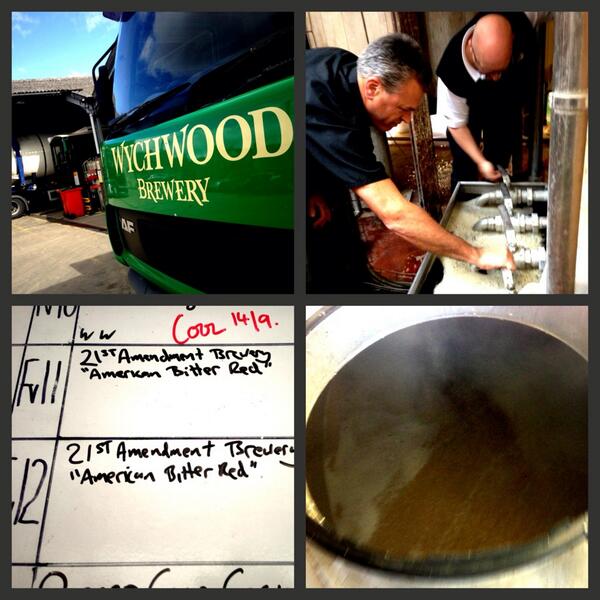 The brewery is of course named for the
repeal of prohibition
, without which this brewery and all of the others below would have been unable to exist.
@21stAmendmentBrewery
Next up is
Restoration Pale Ale
brewed by Mark Wilson of Abita Brewing Co with Wetherspoon collaboration stalwarts Wadworth. Normally based in Louisiana Mark rocked up in Devizes and used a large amount of cascade to get plenty of citrus character into this beer.
@TheAbitaBeer
Ballast Point
are a well known US craft brewer from San Diego California; so "session IPA"
Even Keel
brewed at Marstons should be something special (and is a recreation of a 3.8% regular beer in cask form). Again using new world hops; so expect plenty of citrus character but there's also some noble hops in there to provide plenty of bitterness too.
@BPBrewing
There's an unusual sounding brew from Will Meyers of
Massachusetts' Cambridge Brewing Co
- Beatles inspired
Sgt Pepper
is a saison with rye malt and four types of peppercorn. I think its great that Wetherspoon make this kind of creative ale available to the UK drinking public at large and well done to Everards for collaborating on this!
@CambridgeBrewer
Another fantastic sounding beer is Seattle's
Elysian's
Avatar
, a jasmine IPA brewed by brewer Dick Cantwell with Thwaites on their "Crafty Dan" kit on 17th September.
Featuring the fairly recent
Glacier
hop alongside superstar Amarillo and bittering stalwart Northern Brewer. At 6.3% its fairly hefty too and should work well as a warmer for the journey home.
@ElysianBrewing
Sunshine Daydream
is a 5% brew named for a Grateful Dead documentary released in 1972. It was brewed by Matt Cole owner of Ohio's
Fat Head's brewery
at Batemans on 9th September
(welcomed by an Ohio state flag!)
with centennial, citra and simcoe triple-teaming on the hop-front to produce a citrus bomb IPA.
@FatHeadsBeer
Harpoon
IPA
was brewed by brewer Jamie Schier at Bank's. Its been brewed in their Boston brewery for 20 years; so great to get a UK cask version brewed over here.
@harpoon_brewery
Another uncommon beer style for the UK and the first outing at a Wetherspoon fest is
Cream Ale
. This one has been brewed by Oregon's Ninkasi at Caledonian in Edinburgh. Cream ale is a light fruity ale using simcoe and liberty for fruity apricot and mango notes, then lagered (cold conditioned) a hybrid style akin to kolsch.
@NinkasiBrewing
Mitch from Stone has
documented his trip to the UK here
. He brewed
Supremely Self Conscious
alongside Fergus at Adnams. I'm a big fan of Stone beers and Adnams is a well respected brewer plus I love Black IPAs; so this is surely my most anticipated beer at the fest this year.
@StoneBrewingCo
And last but not least is Spike Buckowski of Georgia brewery
Terrapin's
collaboration with Shepherd Neame -
Treehugger
. Its another rarely seen beer for the UK a German style Altbier with authentic Hallertau region hops.
@TerrapinBeerCo
I'm also looking forward to
Roosters All Sta
r
Brewster's Aromatic Porter
and even the
GK Abbot's Confession
. but there should be something for everyone with 50 beers to choose from! I think you'll agree with me that Wetherspoon have outdone themselves with the selection this year, I'm not sure how they'll raise the bar again in 2014!
All the tasting notes for these beers may be read in the
festival program
, along with interesting background stories for each of the brewers. All of the beers have already been added to ratebeer, so I've linked them in to the above. Remember that you can get three thirds for the price of the pint during the festival, making it easier to try the full range (don't try 50 in one day!)
Northern Ireland CAMRA and Beoir are coming together to celebrate the festival in the Bridge House Belfast on Saturday 19th October, all are welcome. Its a chance for you to meet fellow beer enthusiasts, a brewer or two and hopefully try all ten US cask beers at the same time.
Thanks are due to Gary Holmes and the marketing team at JDWcreative for sending me through a PDF with all of the pumpclip artwork, cheers guys.