My third whisky tweet tasting experience was something a little different from the previous two: not only were the 5 samples on offer American in origin, they were also unknowns. I don't know much about American whisky anyway; so the evening was a great learning experience. Whiskys were provided by
Arkwrights
and as ever compèred by taster supremo
Steve
,cheers guys! Review after the group shot.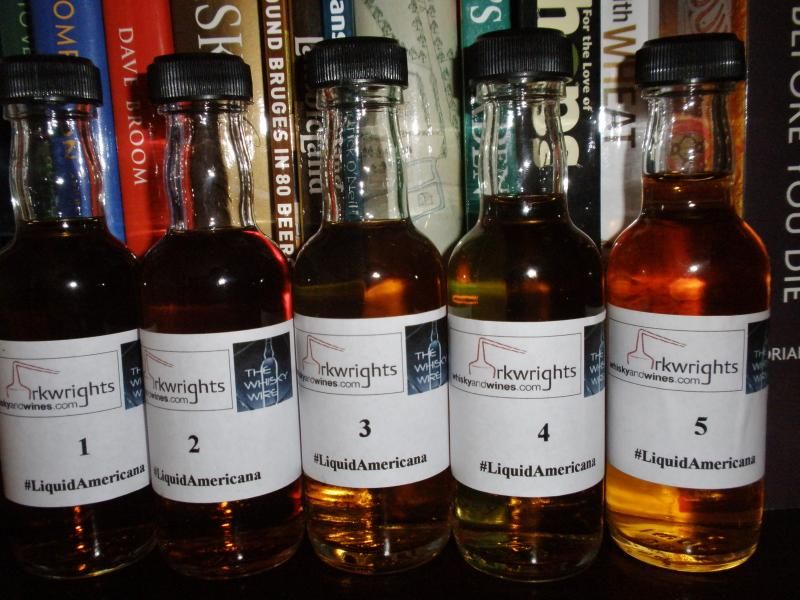 First up was a weighty perfumey jasmine rice and coconut milk number that was quite boozy with an interesting Parma Violets finish. it tasted like a fiery sweet potato until doused with a splash of water, allowing spicy wood, mashing barley and vanilla to come to the fore. I wasn't all too impressed but suggested it as a cocktail base, which got some nods of approval. Turns out this one is a bourbon, Elijah Craig 12 y/o,
available for a reasonable £31.50
.
Moving on swiftly we reached an elevenses whisky, spicy Seville marmalade on wheaten bread. It tasted completely different - BBQ'd pineapple with black pepper, heavy on the char and an oily textured finish with oriental spiced nuts. This whisky is another bourbon and
the priciest at £54 - Noah's Mill
.
Third up was actually my favourite of the evening, much gentler on the nose with strawberries, turkish delight and candied angelica. Lighter in body and finishing sweet, this is the only one that didn't need the additional water. A novelty this one being a wheat whisky it turns out,
Bernheim original £52.25
though I probably wouldn't splash out for the bottle when a Speyside would do it for cheaper.
A bargain at £23.50!






The penultimate whisky offered up a smorgasbord of healthy fruits including satsuma, peaches and blueberries, liberally drizzled with honey. Towards the back was a brooding slightly smoky meaty note. In the mouth was coriander seed, cardboard, oak smoked ham and a lot of cereal...so much so that I guessed this was a grain whisky...wrong again! Rye this time,
Pikesville
to be precise and at a bargainous £23.50 I'm considering picking up a bottle to work through the various rye cocktail recipes I'm dying to try.
We finished up with a whisky of intriguing nose, peppermint, turps and almonds finishing quite fiery with a whack of booze. After adding a touch of water geraniums and orange flower water became apparent on the nose, very full in body though perhaps lacking in subtlety of flavour. This was
High West Double Rye
, so called as it is a blend of two straight rye whiskys.
So an interesting experience, but helped to confirm my suspicions that I am a Scotch malt man rather than a whiskey man. Thanks to Arkwrights for providing the samples, if you fancy trying them at home they're
available through Arkwrights for £16.75
, that's less than £3.40 a double stats fans! Follow the nights' shenanigans on
#LiquidAmericana
.