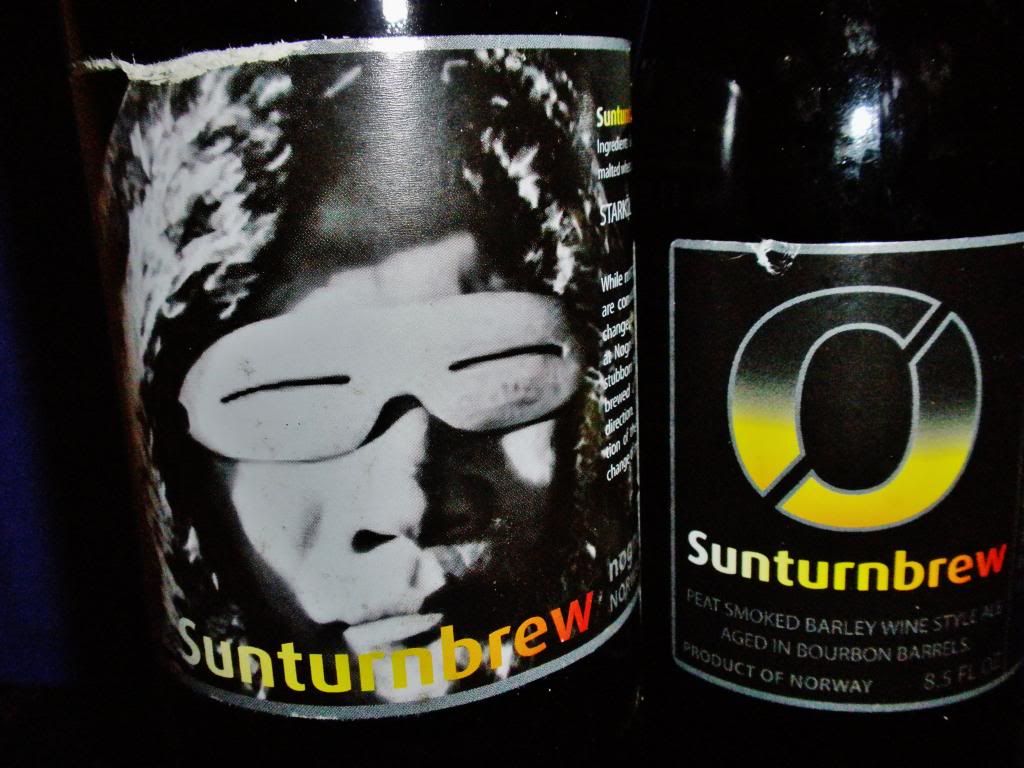 Its sometimes interesting to compare two or more beers in a series, to find out what different treatment can bring to the flavour of the beer.
Sunturn
brew is an 11% barley wine from our Norwegian friends
Nøgne Ø.
This one is brewed with 30% peat smoked malt and 20% rye malt.
It pours impenetrable black with the merest suggestion of ruby brown corona when held up to the light. As you'd expect it reeks like an Islay whisky and peat is the only flavour in your mouth for the first few sips. Once the palate shock has subsided however, other flavours are allowed to come through. There's the juicy red berry rye flavours and a whole jumble of dried fruits and chocolate from the malt. Its a complex beer which evolves as you drink it and you certainly have plenty of time for contemplation as that alcohol is not shy about showing its head.
What happens when it is aged in a bourbon barrel then? in this case an unfortunate mess. It starts off promising with al the requisite vanilla and butterscotch on the nose, but the tasty peat phenols have disappeared altogether to be replaced with harsh alcohol flavours and unbearable caramel sweetness. If I'd kept some of the unaged version I dare-say they'd have made a beer greater than the some of its parts, but on its own the barrel aged version has just been left for far too long and is a struggle to get through.
What have we learnt then? It takes a deft hand to barrel age a beer well. We've also learnt that brewers will still try to sell their beer when its been ruined, especially if gullible beer buyers (this one included) will part with their cash for it.